Traveling to Paris-CNAM
By Air

The Paris-Charles de Gaulle Airport is approximately 45 minutes (public transport or driving time) from the CNAM in Paris.
The Paris-Orly Airport is approximately 30 minutes (public transport or driving time) from the CNAM in Paris. Paris-Orly is linked to the RER B station « Antony » by the ORLYVAL shuttle train.
Hotels
The CNAM is situated in the third district of Paris, but the subway allows to book an hotel in other districts. Paris has the widest choice of hotels in the world with a full range of prices, offering something for everyone.
CNAM in Paris

CNAM is located in the 3rd district of Paris near the METRO 11 station « Arts et Métiers ». RER B stops at station « Châtelet les halles ». There is one correspondence from station « Châtelet » to station « Art et Métiers » by the METRO 11 line. You can find more information on the RATP website.
Exit the station « Arts et Métiers » by the « Rue Turbigo ». The « rue Conté » is in front.
CNAM
The Cnam is a French institution of long standing (1794) and deep scientific tradition. It accomplishes three interrelated missions:
Lifelong education

for students and working professionals,

Research

in science, technology and management,
Diffusion of this knowledge.
90 000 people are enrolled in our professional and management development programs and 7 000 students are earning an undergraduate, graduate or doctoral degree. We held over 350 national and international conferences, managed over 5 million in research contracts and applied for 4 patents last year.
The Musée des Arts et Métiers was also created in 1794. It is made up of seven principal sections, presented in chronological order: Scientific instruments, Materials, Construction, Communication, Energy, Engineering and Transports. Among the highlights of the museum: Lavoisier's gasometers, Corning optical fibres, the cinematograph device by the Lumière brothers, Watt's steam engine, Volta's first invention of the battery, as well as a type 020 locomotive by Stephenson. The museum regularly organises lectures, debates and temporary exhibitions.
Visiting Paris
Paris is a close-knit and welcoming place with a pleasant climate. The Seine cuts across the city and two woods on either side offer a breath of fresh air. Indeed, Paris has been blessed by nature. From Lutetia to the Napoleon Bonaparte Empire, from the declaration of the Republic to the Paris Commune: Paris was right at the heart of events that marked French history and shaped its present.
There are more than 40 museums in Paris, France, from egyptian antiquity to XVIII th century painting in the Louvre and from Impressionnists to Modern Art through Orsay and Picasso Museums. Paris is home to a varied population. A high proportion of students, young workers and elderly people, many tourists and a large number of foreign residents: a genuine cultural wealth.
For more information, see the Paris Tourism Office website.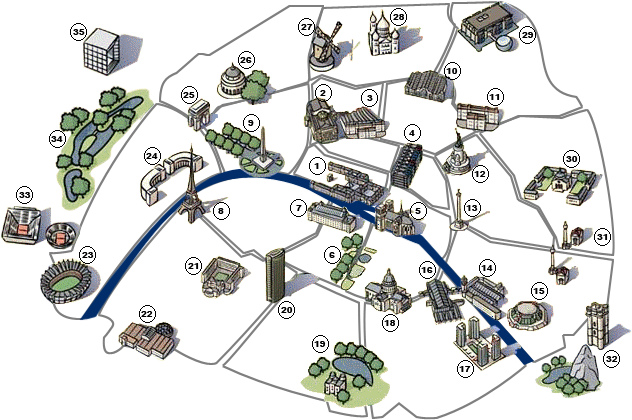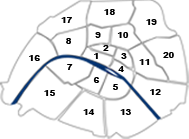 Districts
| | | | | | | | |
| --- | --- | --- | --- | --- | --- | --- | --- |
| | | | | | | | |
| | | | | 16 | Gare d'Austerlitz | 26 | Parc Monceau |
| | | | | 17 | Grande Bibliothèque | 27 | Moulin Rouge |
| | | 8 | Tour Eiffel | 18 | Panthéon | 28 | Montmartre |
| 1 | Musée du Louvre | 9 | Champs Élysées | 19 | Parc Montsouris | 29 | La Villette |
| 2 | Opéra Garnier | 10 | Gare du Nord | 20 | Tour Montparnasse | 30 | Cimetière du père Lachaise |
| 3 | Gare St-Larare | 11 | Gare de l'Est | 21 | Gare Montparnasse | 31 | Nation |
| 4 | Centre Pompidou | 12 | République | 22 | Parc des Expositions | 32 | Chateau de Vincennes |
| 5 | Notre Dame | 13 | Bastille | 23 | Parc des Princes | 33 | Roland-Garros |
| 6 | Jardins du Luxembourg | 14 | Gare de Lyon | 24 | Trocadéro | 34 | Bois de Boulogne |
| 7 | Musée d'Orsay | 15 | Bercy | 25 | Arc de Triomphe | 35 | La Défense |